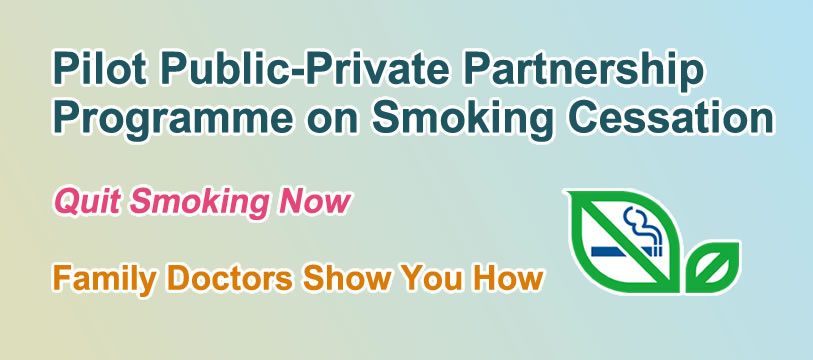 Information for Public
Background
Smoking is harmful to health. Smokers need help and support to overcome tobacco dependence and to quit smoking. To complement existing smoking cessation services, the Department of Health (DH) launched the two-year Pilot Public-Private Partnership Programme on Smoking Cessation (SCPPP) in December 2017 to test a new model of free and opportunistic smoking cessation services provided by private primary care doctors. The pilot programme aims to improve access to smoking cessation service for smokers who may be hard to reach by other means.
Smokers under the care of doctors enrolled in the pilot programme receive free and fully-subsidised smoking cessation services which include assessment, identification of motivational factors and barriers to quit smoking, counselling with medication for smoking cessation if indicated.
Who may enrol
To join the SCPPP, you should:
be a Hong Kong resident who is 18 years old or above; and
hold a valid Hong Kong Identity Card or Certificate of Exemption; and
have registered in the Electronic Health Record Sharing System (eHRSS); and
be determined and ready to quit smoking.
Please click here to find a doctor enrolled in the SCPPP to help you to quit smoking.
Key steps of the SCPPP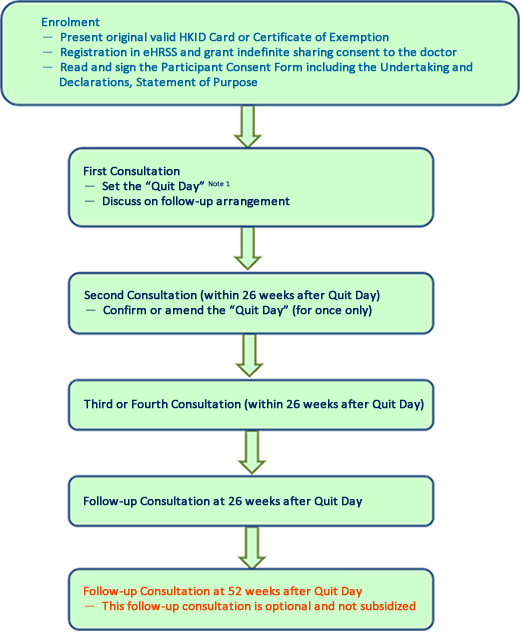 Please click here for the Participant Consent Form (Sample).
Note 1: "Quit Day" refers to the target day for the SCPPP participant to totally abstain from smoking, which is discussed and agreed between the enrolled doctor and the participant. It is subject to adjustment during the second consultation (for once only) if the actual quit day is different from the original quit day set in the first consultation.
Points to note
The consultations are recorded in the SCPPP IT System which rides on the Electronic Health Record Sharing System (eHRSS).
If you withdraw from the eHRSS, the Enrolled Doctor will no longer be able to access your data and receive the subsidy from the Government and you may be required to make a payment for the smoking cessation services received.
Smoking cessation services are provided by the Enrolled Doctor in the SCPPP, who shall be professionally accountable for the clinical care and management, and the related follow up.
You may be contacted by DH staff for service monitoring and evaluation of smoking cessation services of the SCPPP. Please keep your contact information (e.g. mobile phone number) registered in the eHRSS up-to-date.
Other smoking cessation services and useful links