Information for Doctor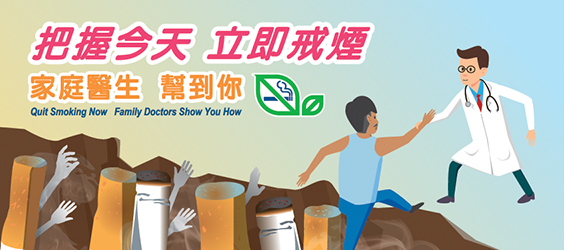 Background of the Pilot Public-Private Partnership Programme on Smoking Cessation (SCPPP)
Smoking cessation is an integral part of the Government's tobacco control policy. Primary care doctors are uniquely positioned to initiate smoking cessation. The SCPPP was planned with the intent to engage private primary care doctors to help smokers who may be hard-to-reach to quit smoking and to complement existing smoking cessation services. The programme aims to enable access of free and opportunistic smoking cessation service provided by private primary care doctors for smokers. It is also hoped that the programme may help further lower the smoking prevalence in Hong Kong.
Through consultations for other health problems, the enrolled doctors provide opportunistic assessment of the smoking status, identify motivational factors and barriers to quitting and offer counselling and pharmacotherapy if indicated to facilitate eligible smokers to quit smoking.
Through completion of a simple online consultation record in eHealth Record Sharing System (eHRSS), the Government would like to assess Quit Rate amongst participating smokers at 26 weeks and 52 weeks from Actual Quit Day.
For Primary Care Directory-enrolled doctors who have expressed interest in joining the SCPPP, fulfilled all mandatory requirements and submitted proof of completion of online refresher course to the Primary Care Office, please read the following documents for details of enrolment to the SCPPP:
eHRSS registration
In order to facilitate consultation record keeping and sharing, payment processing and following-up of participating smokers, an IT System which rides on the eHRSS has been developed for the SCPPP. The IT system has important functions of keeping logs, processing transactions and following participants through the cessation pathway. Prospective service providers and service recipients should complete eHRSS enrolment procedures well ahead of enrolment into the SCPPP. Please visit www.ehealth.gov.hk for details on eHRSS registration.
Refresher Course on Smoking Cessation organised by the Department of Health
This online Refresher Course on Smoking Cessation is provided by Mayo Clinic of the United States and coordinated by the Tobacco Control Office (TCO) of the Department of Health. Doctors can complete the online course according to their own schedule at their convenience. It will take around 3 hours to complete. 3 CME points will be accredited to non-specialists (The Medical Council of Hong Kong's voluntary "CME Programme for Practising Doctors who are not taking CME Programme for Specialists"). A number of colleges have also accredited CME points for completion of this online course.
The course consists of 3 modules: (i) engaging the patient, (ii) assessment and treatment planning, and (iii) maintaining connections to prevent relapse. Various aspects of smoking cessation will also be covered. An online assessment will be available at the end of the course and an e-certificate will be awarded for those who pass the assessment.
All Primary Care Directory enrolled doctors have been invited via email in August 2017 to express interest in joining SCPPP and the first 40 will have a chance to attend the online course.
Press Release
DH to launch Pilot Public-Private Partnership Programme on Smoking Cessation